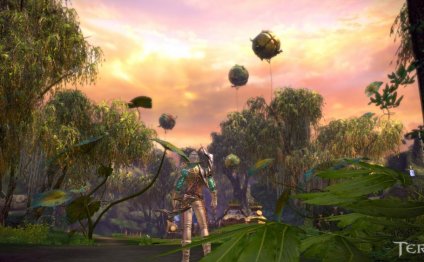 Tera Rising bot
For its newest player class, TERA brings out the big guns. Like, really big. The Gunner, as it's called, can only be played by the lithe high elves and '80s glam queen-like Castanics, and in their hands they look a little like a locomotive caught in the branches of a sapling pine. They also pose an interesting question—when you can have guns this big and powerful in the world of Arborea, why even bother with the swords and recurve bows lugged around by the game's other classes?
Indeed, playing the Gunner feels a little like playing the Terminator in the world of Lord of the Rings. It's all focused on making big, bad things go boom, regardless of whether it's by pelting them with purple "mana missiles" or through an arc bomb that rolls along the ground like a bowling ball before exploding and unsettling all but the biggest "BAMs" (big-ass monsters). Fire at the ground with Rocket Jump, and boom, you go catapulting to safety.
And that's just the small stuff. The Gunner comes into its own with a knobby, summonable robot named HB-7, who both heals the Gunner and occasionally dishes out some piddly damage. I found I could even teleport to the thing at times if I wished, allowing me to jump out of danger when I bit off more than I could chew. (This rarely happened, though, as the Gunner wears heavy armor.) And when I wanted to keep the pain coming but couldn't spare time to pull my own trigger? I'd slap down a turret that would rain death on the foes around me. It's good stuff, but I did notice the turret had an annoying habit of drawing more creatures into the fray.
There's some strategy involved in all this: it isn't just mindless shooting (or, at least, it isn't if you play the class to its full potential.) The Gunner's best abilities rely on a new resource called Willpower, which builds up any time your portable doomsday cannon leaves some more grumpkin or snark dying in the pixels. My favorite by far is the simple Burst Fire, which leaves enemies dancing in a rat-a-tat hail of bullets as though they were gangsters caught in the sights of a 1920s Tommy Gun.
Build up Willpower to 100 percent and you unleash far more visually stunning things. There's Bombardment, for instance, an area-of-effect ability that calls down a rain of fire in a designated spot. Most impressively, there's Balder's Vengeance, which sends your wispy Gunner up into a ball of lightning, whereupon it unleashes a long, frontal blast that hits everything in front of it with the force of a freighter truck. I once used it on a BAM, and as it sat there stunned in the dirt for around five seconds, I was half convinced I'd one-shot the thing. I hadn't, and that's probably a good thing. With such power, it's likely that no one would ever play another TERA class again.
I did, admittedly, find the associated maintenance a tad tiresome. Kills build up your Willpower, yes, but only gradually. Most of the time you're expected to press the "Replenishment" hotkey over and over, which slowly adds around 10 percent more mana and Willpower with each pass. It's obviously meant to ensure the god-like abilities remain useful on boss fights and the like, but especially in those situations, I found it a tad too routine. Half the time, admittedly, I tried to convince myself that I was simply reloading my gun with each press. Even so, I can't deny that I never failed to feel a rush when the meter reach full capacity and I could unleash hell once again.
Under TERA's current design, the Gunner might have been a quirky but otherwise formulaic class—little better than a sorcerer without the robes. But the true beauty of the Gunner is how freely it lets you move. TERA always plays up the appeal of its action combat, which certainly resembles Darksiders more than, say, World of Warcraft, but the majority of its existing skills root you in place as firmly as a tombstone.
Much like World of Warcraft's Hunter class, the Gunner lets you fire on the move. It's downright exciting at times, and the dancing involved meant that only the excessively large health pools of some of the monsters I encountered reminded me that I was playing an otherwise predictable MMORPG. TERA recently tried to reinvigorate interest in its game with the new Fate of Arun expansion, but the truth is that all the hubbub about new zones and dungeons didn't rekindle my interest as easily as my 45 minutes with this one new class.
YOU MIGHT ALSO LIKE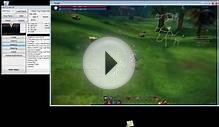 MMOViper Tera Bot - Released 1.4.6.3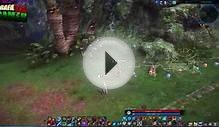 Tera Online - Como trollar jogadores que usam bot pra ...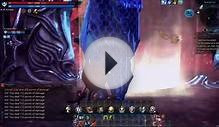 TERA Rising: Gameplay - DG 9 HACK LEVEL UPGRADE Koryua Elin x2
Share this Post
Related posts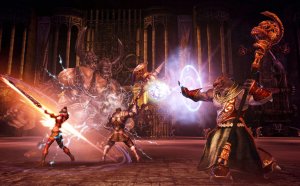 JANUARY 19, 2022
PS: The comparition is not made by me. I just repost the info here to help those who are interested in Priest/Mystic. Hope…
Read More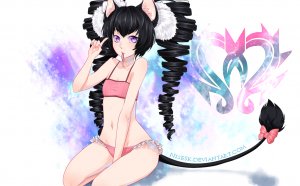 JANUARY 19, 2022
The elins have one driving goal: if it's not good for nature, stop it. Older and wiser than they appear, they join with forces…
Read More